Characters
Luke Skywalker == Han Solo == Princess Leia == Chewbacca == Darth Vader Obi-Wan Kenobi == Darth Vader == Jabba the Hutt == Bobba Fett
Mark Hamill Nephew of Owen and Beru Lars, moisture farmers of Tatooine, killed by Stormtroopers in a raid looking for droids R2D2 and C3PO. Luke had a friend, Biggs Darkslighter, who was killed in the attack on the Death Star. Skywalker liked to shoot Womp Rats in his T16 Skyhopper, a small landspeeder craft. "I'm Luke Skywalker, I'm here to rescue you!"
Harrison Ford Rebel pilot and smuggler. With his copilot, Chewbacca, he smuggled contraband past Imperial security in many systems such as Kessel. He was paid to take Skywalker and Kenobi to Alderaann. "Spells and hokey religion is no match for a good blaster at your side."
Carrie Fisher Princess of Alderaann and foster daughter of Senator Bail Organa. Was captured by Stormtroopers on board the Tantive IV, which was carrying the stolen Death Star plans. Her mother, Queen Amidala of Naboo, married Anakin Skywalker, the future Darth Vader. "You came in that thing? You're braver than I thought!"
Co-pilot of Han Solo and the Millenium Falcon. Chewbacca was a slave of the Empire until Han Solo rescued him from his homeworld of Kashhyk.
David Prose (Body), James Earl Jones (Voice), Sebastian Shaw (Anakin Skywalker in Return of the Jedi) Dark Lord of the Sith and apprentice to Emperor Palpatine. Darth Vader is a Dark Jedi who harnesses the Dark Side of the Force. Vader was once Anakin Skywalker, a happy, care-free boy who lived in Mos Espa on Tatooine. He was a boy who was strong with the force and at the age of 10, he was discovered by Jedi Knights Qui-Gon Jinn and Obi Wan Kenobi. He was brought before the Jedi Council, led by Master Yoda and Mace Windu, but denied the right to begin training. Yoda said that Anakin's future was dark, but Qui-Gon Jinn insisted on being able to train Anakin. However, Anakin was tempted by the Dark Side of the Force and Emperor Palpatine. When Anakin refused to join the Dark Side, the Emperor horribly disfigured Anakin to the point of him needing a ventillator and a special containment suit to survive. "Don't underestimate the power of the Force."
Alec Guiness Former Jedi Knight and mentor to Anakin and Luke Skywalker. He helped Skywalker, Solo, Chewbacca, and Leia escape the Death Star by disabling the tractor beam. As they were escaping, he fought with Darth Vader and was killed. "If you strike me down, Darth, I will become more powerful than you can imagine."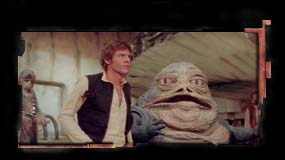 Vile gangster of Tatooine. Jabba the Hutt ran many illegal operations before and during the reign of the Empire. Jabba used Han Solo to complete many of his tasks, such as sneaking contraband around the galaxy. He was a prominent figure before the Empire came and presided over the Bontoona Festival's Pod Race. "If you try to cheat me, I will set a price on your head so high, you won't be able to go near a civilized system." (Translated)
Bounty Hunter and one of Jabba the Hutt's henchmen. Fett is an unknown species and uses a set of Mandalorian armor for protection. SPOILER! Highlight to read: It has been rumored that Jet Li, the martial artist in Leathal Weapon 4 and Black Mask will play an unmasked Fett in Episode II
Luke Skywalker == Han Solo == Princess Leia == Chewbacca == Darth Vader == Obi-Wan Kenobi == Darth Vader == Jabba the Hutt == Bobba Fett