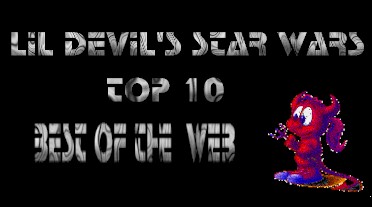 Lil Devil's Star Wars
                                        Top 10 Best of the Web

    Welcome! There has been a tremor in the Force: a duel is brewing between the Dark and Light Side. Actually, it's more like a contest. LDSW is holding a contest to see which sites on the web are the best: General, Episode I, Dark Side, Light Side, or nuetral. If your site is one of these, than by all means, enter this contest!
   There are several award catergories to win from: The Emperor's Apprentice Award (for Dark Side sites), The Rebel Medal of Honor (for Light Side sites), The Bounty Hunter's Award (for nuetral sites),  the Jedi Council Award (for Episode I), and the Galaxy Award (for General). There will be two in each catergory (making ten out of all catergories together) and one Best Site of the Web award.
    Fill out the following form with some info about your site and the URL so that it can be indexed for judgement. If you win, you will be featured on the Lil Devil's Star Wars site as a feature site with a banner to your site and will be given an award for your web site.


    So, enter soon, and May the Force Be With You!

 



Copyright © 1999 [Lil Devil's Star Wars]. All rights reserved.
Revised: June 17, 1999.